Enable Channels
In the

Edit

menu click on Channels.... The Ch: block cursor will blink in the on the status bar. The currently active list of enabled channels are displayed in this field, immediately to the left of the cursor (blinking prompt).

Enter the desired channel number and press the ENTER key. Repeat for each desired channel. Each active channel will have its corresponding channel number displayed in the currently active channels list.
When all desired channels have been enabled, exit the channel configuration routine by pressing any key other than the "D" or "I" key.
Channels may be disabled by typing the channel number preceded by a minus ("-") sign. For example, typing "-3" disables channel 3 and removes it from the list of currently active channels.
To enable or configure channels for acquisition, WinDaq must be in the SET-UP operating mode. Channels cannot be added, deleted, or configured once the user has entered the RECORD mode. 

 Click on the Enable button in the Toolbox.

 In the Edit menu click on Channels... or double-click on the in the status bar. This displays the Channel Selection grid.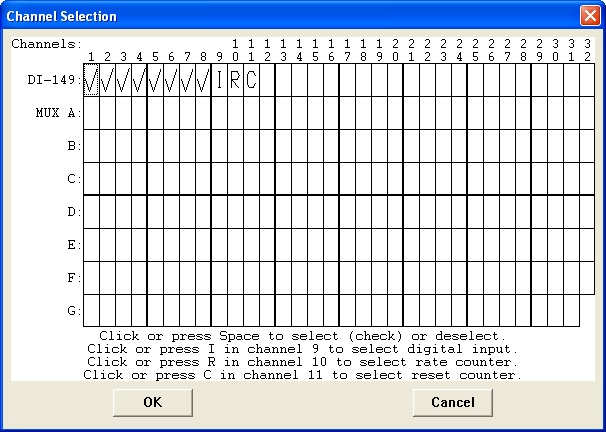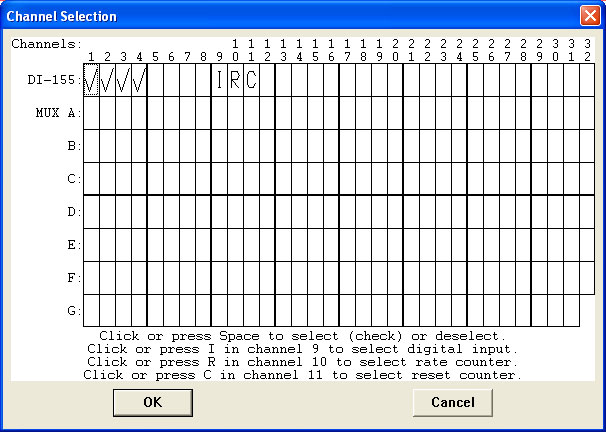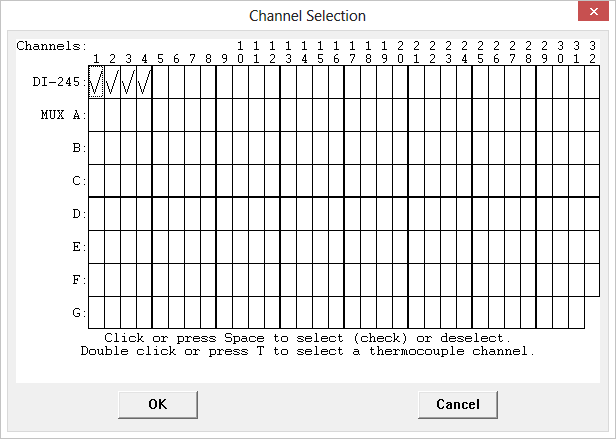 The current status of all channels is displayed in this grid. The Channel Selection grid allows the user to enable and disable analog and digital input channels. All channels are enabled/disabled with a left-click on the channel box. Analog Input channels show a checkmark when enabled. The Digital Input channels (channels 9 (general purpose digital input - "I"), 10 (Rate channel - "R"), and 11 (Count channel - "C")) show an I, R, or C, respectively when enabled.
The channel selection grid displays all enabled channels with a checkmark. Enable/disable channels by clicking on the respecting channel box. Thermocouple channels will display the letter "T" in the channel box. Designate thermocouple channels in Channel Settings.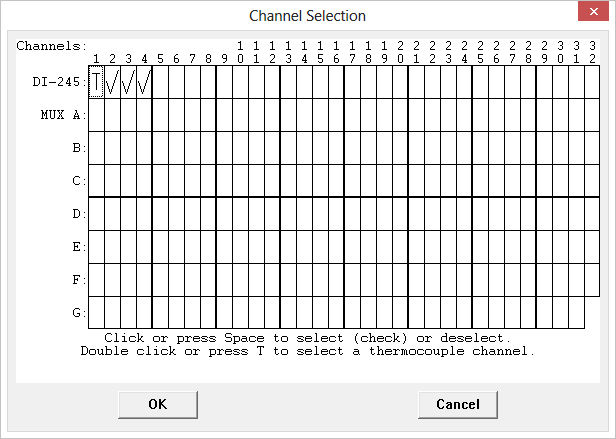 Note: Channels may not be added after the RECORD mode has been entered.