Units per Division
This Command allows you to set and display the vertical scale and baseline.

 In the Options menu click on Units/Division.

  Choose Options Units/Division (ALT, O, N)
The current setting for units/division in your WinDaq Acquisition screen displays.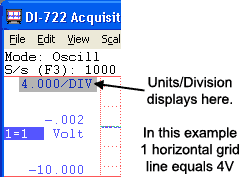 Change the Units per Division.

 In the Scaling menu click on Division.

  Choose Scaling Division (ALT, C, V)
This will bring up the Units/Division dialog box.

Enter desired values for Units/Division and if you would like to change the baseline value. Click on OK or click on Next/Previous to go to the Units/Division dialog box for the Next/Previous channel - set values for all channels desired and then click OK.
Any changes made in Scaling Division are effective only until the Gain, Calibration, Grid Spacing, Screen Format, or vertical window size is changed. Subsequent use of Scaling Limits, Autoscale, Show Dynamic Range, Grow, or Shrink will also change units/division, and Scaling Invert will change its sign. A new baseline entered in the dialog box must be between the bottom and top limits signal limits displayed by Scaling Show Dynamic Range.
Accelerator key version
| | |
| --- | --- |
| Keystroke | Comment |
| CTRL+SHIFT+U | Displays Units/Division in your Acquisition Window |
| CTRL+SHIFT+V | Opens the Units/Division Dialog Box |
| 2 | Sets the Units/Division to 2 in Channel 1 |
| TAB, TAB, TAB, ENTER, 2 | Sets the Units/Division to 2 in Channel 2 |
| TAB, TAB, ENTER | Closes the Dialog Box |