Function
The "Transfer Channel Annotations" command allows you to transfer the channel annotations contained in any WinDaq file to the file currently active within the Browser. If the annotation source file does not have the same set of channels enabled as the current file, some annotations will be mislabeled. If the source has fewer channels enabled, the higher-numbered channels will have their annotations unaffected. If the source has more channels enabled, annotations for its higher-numbered channels will be discarded. Source channels with no annotation will clear annotations for the corresponding channels.
Activating Procedure

  In the Edit menu click on Transfer Channel Annotations....

   Choose Edit Transfer Channel Annotations (ALT, E, N).
This will bring up File browser window to select a file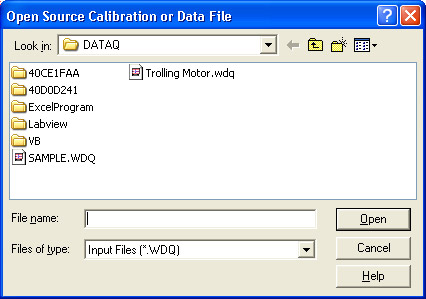 You may now choose a file to transfer channel annotations from.
Example
| | |
| --- | --- |
| Keystroke | Comment |
| ALT + Shift + F11 | Open Data File dialog box |
| Choose a file by typing the name in the File name text box and hit ENTER | Instantly updates your current file |