Please Note: This product is now obsolete
DI-159 PLC is now Available for Sale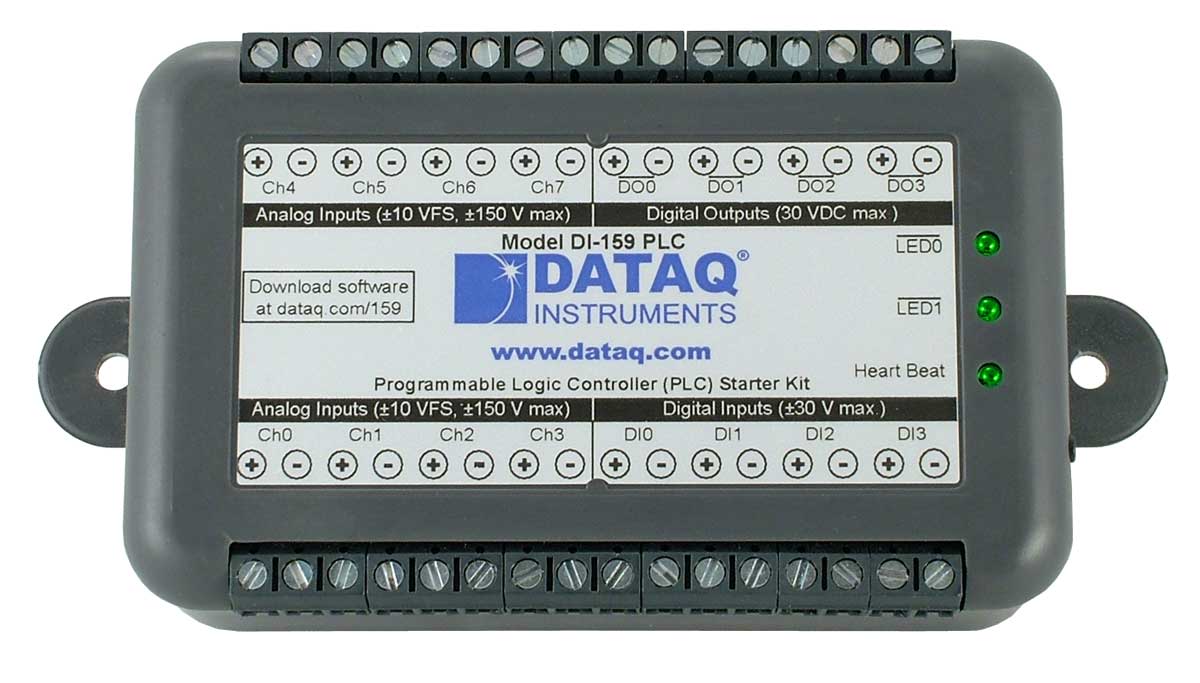 The DI-159 is a low-cost PLC (programmable logic controller) that allows anyone with rudimentary programming skills to construct effective control systems in minutes using the embedded BASIC programming environment. It features eight protected analog input channels, each with a ±10 VFS range and 10 bits of ADC resolution as well as four digital input channels and four digital output channels. The four digital output channels can switch up to 30 V/500 mA loads  while the digital input channels detect TTL thresholds over a maximum applied range of ±30 V peak.
A Windows terminal program is provided free of charge to connect and program your device. Sample programs are available in the Help menu of the software to help you get up and running right out of the box. Want to use your favorite terminal program? Feel free, the DI-159 will work with any terminal program that can hook a COM port – even Linux and Apple users (drivers and software not available from DATAQ Instruments).
At just $169, it beats most PLCs and PACs in the market on price and performance.
Features
Low-cost, PLC Data Acquisition and Control
Built-in BASIC Programming Language
Supports High-and Low-speed Applications
Eight Built-in Analog Input Channels
Four Built-in Digital Output Channels
Four Built-in Digital Input Channels
Two General-purpose LEDs for device indication
One General-purpose pushbutton for control
Replaces Controllers many times its Price and Complexity
Learn more about the DI-159 PLC