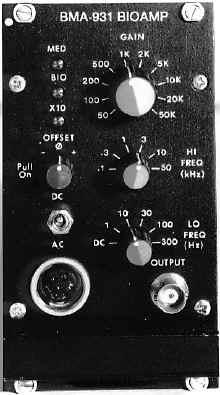 BMA-931 Biopotential Amplifier
For Biopotential Signals Such As ECG, EMG, ENG, EGG, etc.
High Gain to x50,000 (Up to 500,000 With a Head-Stage)
Balanced Differential Inputs For Low Noise Measurements
Selectable High-Pass and Low-Pass Corner Frequencies
Applicable to a Wide Range of Biopotential Measurements (EMG, ECG, EOG, etc.)
Selectable AC/DC Coupling

Download the BMA-931 Biopotential Amplifier Data Sheet
Part Number
Description
Price
(US)
DATAQ Store
BMA-931
Biopotential amplifier for electrophysiology.
$1250
Qty:

Note: Pricing outside the U.S. will be higher to account for shipping, taxes, duty, currency fluctuation, local warranty and technical support in your country.
Product Highlights
The BMA-931 is a high performance, low-noise, AC/DC preamplifier. It's well suited for conditioning a variety of biopotential signals, including ECG, EEG, EMG, EGG, ENG, and evoked potentials. The modular design, wide gain range, sharp cutoff bandpass filters, and true DC response make the BMA-931 an excellent choice as a primary recording amplifier Plugging the low-noise ISO-Z isolated head-stage into the BMA-931 makes an ideal combination for recording signals from human subjects. For high-impedance intra-cellular or extra-cellular microelectrode work, just plug the super-Z ultra-high input impedance head-stage into the BMA-931. When isolation or ultra-high input impedance aren't required, the BMA-931 can be used alone for economical performance.
BMA-931 Specifications(1)
Input type: differential, balanced to chassis common
Input range: ±6V
Input impedance: >109Ω
Wideband noise (referred to input): <5μV P-P
Common mode rejection: >110dB @ 60Hz
Gain range: 50 to 50,000 in 10 steps(2)
Filter cutoff slope: -12dB/octave
High frequency filter: 100 to 50,000 Hz in 6 positions
Low frequency filter: DC to 300 Hz in 6 positions
Input connector: Amphenol, 7-pin socket
Output range: ±10V
Output offset (position) range: ±3V
Output connector: BNC
Power requirements: ±12VDC @ 50mA
Dimensions: 2.75W × 5H × 10D (inches)
(1) The BMA-931 IS NOT to be used for human life support applications.
(2) Gain extended to x500,000 with head-stage.