Calibration of DATAQ Instruments Data Acquisition and Data Logger Products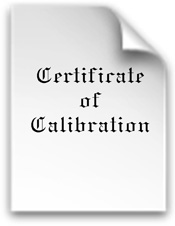 DATAQ Instruments offers calibration services for most data acquisition and data logger products. Products usually include NIST-traceable calibration certificates upon initial purchase. To order a re-calibration of your DATAQ hardware, follow the instructions below.

Order the appropriate calibration certificate through our online store (scroll down for ordering information).
Once ordered, complete the DATAQ Instruments Recalibration Procedure form (pdf) referencing the order number from the original purchase of the device and print.
Cut out the address label on the pdf form and paste to your packaging.
Send the instrument with a copy of your order form in the package to DATAQ Instruments.
When inquiring about the status of your order, have your order number handy for quick reference.
Please Note: DATAQ Instruments does NOT recalibrate third party instruments (Lascar, Graphtec, etc.). If you need a third-party instrument recalibrated please contact the manufacturer.
Please Note: You are responsible for shipping charges both directions and will be charged for return shipping charges through the online store when placing your order.
Note: Pricing outside the U.S. will be higher to account for shipping, taxes, duty, currency fluctuation, local warranty and technical support in your country.