Data Acquisition (DAQ)
Data acquisition systems from DATAQ Instruments are available for a wide range of special-and general-purpose applications, and for any interface and deployment method. Our data acquisition systems support voltage, current, thermocouple, 4-20 mA measurements and more in any combination. Choose either a USB or Ethernet interface, and stand-alone solutions that record data to their own memory, or those that acquire data to a PC using our popular WinDaq software. View all Data Acquisition Products. Read our reviews and testimonials.
Most Popular Data Acquisition (DAQ) Products
Product Selection Guides
Featured Product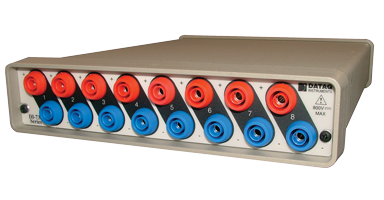 ±10mV to ±1000VDC Measurement Range
1000V input-to-output and channel-to-channel isolation
150kHz waveform recording capability
USB and Ethernet interfaces supported
Synchronous and Distributed Data Acquisition
Data Acquisition Characteristics
PC-connected Data Acquisition
Dependent upon a PC to acquire data, PC-connected instruments usually share these common traits:
Faster sampling speeds
Provided with software that delivers PC-based storage and a real time display of acquire data.
Sometimes powered directly from the PC, or supplied with an external power supply
Stand-alone Data Acquisition
Beyond their ability to operate independently, stand-alone data acquisition products usually share a number of common traits:
The ability to support removable memory devices like SD memory cards
Often, but not always slower sampling rates than PC-connected data acquisition products
Often DC-powered devices for deployment flexibility
Interfaces

PC-connected Data Acquisition Interfaces
Data acquisition products that need a PC to acquire data must connect to them in some manner. This is done through standard interfaces, which are found on all PCs. The most common are:
Stand-alone Data Acquisition Interfaces
Even though they operate without a connected PC, stand-alone data acquisition products need to be programmed to define how data is logged. Common ways to connect are the same as PC-connected products:
Memory

PC-connected Data Acquisition Memory
By definition, pc-connected data acquisition products use a PC's memory for data storage. Software supplied or purchased with the data acquisition system determines how the PC's memory is used:
Stored to PC's RAM
Streamed to a PC's hard disc drive
Virtually unlimited storage
Stand-alone Data Acquisition Memory
Memory options for stand-alone data acquisition products come in many shapes and sizes, but the most common forms are:
Software

All data acquisition products offer PC software solutions that can adapt to the demands of any application. These assume three forms that address the broad base of software approaches:
Ready-to-run data acquisition software offers a no-programming environment to acquire, display, record, analyze and export data to other applications.
Software that supports programming languages like VB, and Dot Net under a Windows operating system environment.
Protocol-level support that allows root access to a given device's command set from any programming language or operating system.