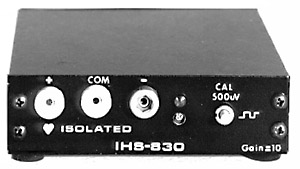 ISO-Z Isolated Amplifier Head Stage
Isolates the Subject From the Data Acquisition System
Provides Medical-Grade Isolation For The BMA-931
Built-In Calibration Signal
Provides An Additional Gain Stage of x10
Supplied With a Long Interconnecting Cable That Allows Head-Stage Location at the Signal Source

Download the ISO-Z Isolated Amplifier Head-Stage Data Sheet
Part Number
Description
Price
(US)
DATAQ Store
ISO-Z
Isolated head stage for model BMA-931 amplifiers.
$690
Qty:

Note: Pricing outside the U.S. will be higher to account for shipping, taxes, duty, currency fluctuation, local warranty and technical support in your country.
Product Highlights
The ISO-Z is a low noise, high impedance amplifier head-stage. It's designed to plug into the BMA-931 Bioamplifier Module for applications where it's necessary or desirable to isolate the subject from the data acquisition system. It uses a medical-grade isolation amplifier to isolate the input connections from chassis or earth grounds. The ISO-Z supplies both gain and calibration, further enhancing its performance. The low impedance output of the ISO-Z is able to drive long cables, making it ideal for use in applications where the DI-1000 Series chassis must be located at a distance from the recording site.
ISO-Z Specifications(1)(2)
Input type: differential, balanced to floating common
Input range: ±600mV
Input impedance: >1010Ω differential
Wideband noise (referred to input): <12µV P-P, <4µVrms
Common mode rejection: >100dB @ 60Hz
Gain range: 10x
Frequency response: DC to 8kHz
Input connector: pin jacks; 0.080 inches diameter
Output range: ±6V
Output connector: Amphenol, 7-pin plug
Head-stage output cable length: 12 feet
Isolation voltage (continuous): 1,500V
Isolation voltage (10 seconds): 5,000V
Leakage current (any input to ground): <5μA
Calibrator voltages: 500μV, 10Hz square wave
Power requirements: ±12VDC @ 20mA from BMA-931
Dimensions: 2.5W × 1.2H × 4.3D (inches)
(1) The ISO-Z IS NOT to be used for human life support applications.
(2) Required for making recordings of human subjects.