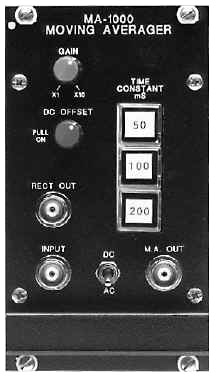 MA-1000 Moving Averager
For the Accurate Quantification of EMG and ENG Signals
For EMG and ENG measurements
Uses easily replaceable time constant modules to implement the moving average
Comes standard with time constants of 50, 100, and 200mS, but any values between 10 and 500mS are available

Download the Moving Average Amplifier Data Sheet
Part Number
Description
Price
(US)
DATAQ Store
MA-1000
Moving Average amplifier.
$1250
Qty:

Note: Pricing outside the U.S. will be higher to account for shipping, taxes, duty, currency fluctuation, local warranty and technical support in your country.
Product Highlights
The MA-1000 consists of an adjustable-gain input buffer, a precision full-wave rectifier, and a moving averager circuit. It is used for the accurate quantification of electromyogram (EMG) and electroneurogram (ENG) signals. The moving averaging circuit is a 3rd order Paynter low-pass filter that creates a contoured or smoothed envelope around the rectified signal, with selectable degrees of smoothing. Smoothing is accomplished by the selection of a time constant, conveniently implemented by front panel pushbutton switches.
MA-1000 Specifications(1)
Input impedance: 1MΩ single-ended
Input voltage range: ±10V
Input coupling: AC or DC, switchable
Rectifier offset and asymmetry: ±5mV max
Frequency response: DC to 25kHz
Rectified output voltage range: 0 to 10V
Moving average output voltage range: 0 to 10V
Output impedance: any output <10Ω
Input/output connectors: BNC
Power requirements: ±12VDC @ 50mA
Dimensions: 2.5W × 5.05H × 9.5D (inches)
(1) The MA-1000 IS NOT to be used for human patient-connected applications.