PA-931 Low Cost Transducer Amplifier
Economical Alternative to the PM-1000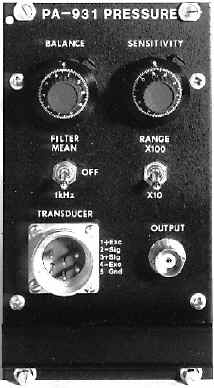 Low-Cost Alternative to the PM-1000
High Gain to x1100
Built-In, Adjustable Excitation
2-Position Filter Switch
Continuously Variable Sensitivity of x1 to x11
Industry Standard Canon WK6-32S Input Connector

Download the PA-931 Transducer Amplifier Data Sheet
Part Number
Description
Price
(US)
DATAQ Store
PA-931
Low cost transducer amplifier.
$1000
Qty:

Note: Pricing outside the U.S. will be higher to account for shipping, taxes, duty, currency fluctuation, local warranty and technical support in your country.
Product Highlights
The PA-931 offers an economical alternative to the PM-1000, and provides the same level of compatibility with a wide range of resistive and solid state transducers. The PA-931 is a good choice for cost-sensitive applications that don't demand the PM-1000's high degree of measurement flexibility. Instead of the PM-1000's nine-step attenuator, the PA-931's design substitutes a ten-turn sensitivity control and a 10x/100x range switch. The six-position, low-pass filter switch on the PM-1000 is replaced by a three-position switch on the PA-931, providing passive mean and 1kHz selections. Up to six PA-931 modules will fit in any DI-1000 Series module cage. Like the PM-1000, the PA-931 IS NOT designed for human-patient-connected (clinical) blood pressure applications.
PA-931 Specifications(1)
Input type: Differential, balanced to chassis common
Transducer compatibility: Statham, Gould, Grass, etc.
Common mode rejection: >100dB @ 60Hz
Input connector: Canon WK6-32S
Excitation voltage: +4 to +10VDC adjustable
Balance control: ±0.2, ±0.05VDC, 10-turn (internally selectable ranges)
Sensitivity: x10 to x1100, 2 ranges
Sensitivity knob: 10-turn, 1x to 11x
Low pass filter: 3-position
Filter frequencies: 0.1 (Mean), 1000Hz, Off
Filter cutoff slope: -6dB/octave
Input connector: BNC
Output range: ±10V
Output connector: Amphenol, 7-pin plug
Power requirements: ±12VDC @ 50mA
Dimensions: 2.75W × 5H × 10D (inches)
(1) The PA-931 IS NOT to be used for human patient-connected applications.