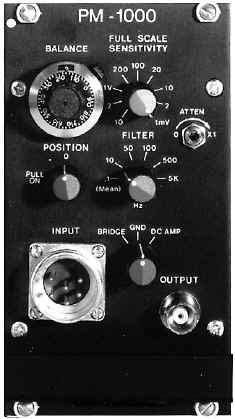 PM-1000 High Performance Transducer Amplifier
For Pressure and Force Measurements
Excellent For Pressure and Force Measurements of Any Kind
Built-In, 6-Position Low-Pass Filter
9 Switch-Selectable Gain Ranges
Built-In, Adjustable Excitation
Industry Standard Canon WK6-32S Input Connector

Download the PM-1000 High Performance Transducer Amplifier Data Sheet
Part Number
Description
Price
(US)
DATAQ Store
PM-1000
High performance transducer amplifier.
$1250
Qty:

Note: Pricing outside the U.S. will be higher to account for shipping, taxes, duty, currency fluctuation, local warranty and technical support in your country.
Product Highlights
The PM-1000 is a DC-type bridge amplifier designed for use with most resistive bridge transducers and solid state pressure transducers. When paired with the appropriate transducers, it's ideal for measuring mouth pressure, force, or acceleration. When used with a pneumotach and differential transducer, it can also be used to measure airflow. The PM-1000 can be used as a low drift, differential DC amplifier with a wide gain range. Variable low-pass active filters, including a mean pressure function, allow the frequency response to be tailored to eliminate vibration signals or other noise. Up to six PM-1000 modules can be accommodated in any DI-1000 Series module cage. The PM-1000 IS NOT designed for human-patient-connected (clinical) blood pressure applications.
PM-1000 Specifications(1)
Input type: Differential, balanced to chassis common
Transducer compatibility: Statham, Gould, Grass, etc.
Common mode rejection: >100dB @ 60Hz
Input connector: Canon WK6-32S
Excitation voltage: +4 to +10VDC adjustable
Balance control: ±0.5, ±0.1, ±0.01VDC, 10-turn (internally selectable ranges)
Sensitivity: 1mV to 10V full scale, 9 ranges
Gain attenuator: 15-turn, 0 to x1
Low pass filter: 6-position
Filter frequencies: 0.1 (Mean), 10, 50, 100, 500, 5000Hz
Filter cutoff slope: -12dB/octave
Input connector: BNC
Output range: ±10V
Output offset (position) range: ±3V
Output connector: BNC
Power requirements: ±12VDC @ 50mA
Dimensions: 2.75W × 5H × 10D (inches)
(1) The PM-1000 IS NOT to be used for human patient-connected applications.