At first glance, the DI-149 looks very similar to the DI-145, DATAQ's entry-level starter kit, released earlier this year. A closer look reveals much more. The DI-149 includes eight, fixed-differential analog inputs, four digital outputs a rate channel and a counter channel. Much more robust than its predecessor, the DI-148U, analog channels are protected up to ±150V (digital channels up to ±30V).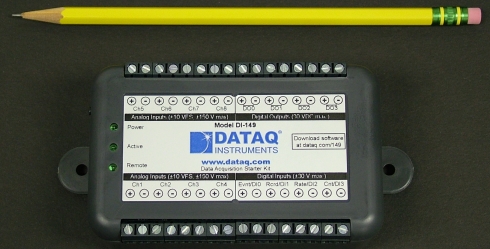 The DI-149 includes LEDs to indicate when the unit is connected to the PC (Power), when WinDaq is running (Active) and when an event marker has been inserted in a file (Remote). A push-button, located next to the USB connector, allows you to manually insert even marks in a file. To accommodate all the added features, the DI-149 is roughly twice the size of the old DI-148U. There are rubber feet on the bottom of the unit that prevent it from sliding around on your desk and mounting ears if you want to fasten it to a wall or test stand. With an enclosure constructed of hardened plastic, DI-149 is durable.
Inside and out, great value for the money!