We've blogged in the past about the ability to back up GL820 data using Windows built-in FTP server. Now you can download an app and back up data to your Android or iOS mobile device!
For the purpose of this example, we downloaded SavySoda's WiFi FTP Server from the Apple App store for $0.99, and backed up data on an iPad Mini. There are several free alternatives in the Apple App store and the Google Play store (if you own an Android device).
Set-up is simple. Begin by selecting FTP as the backup destination of the GL820 and choosing a backup interval.

Next, navigate to the 'I/F' tab on your GL820 and enter the IP address (the devices IP) and port number provided by the mobile FTP app under 'FTP Server Settings'.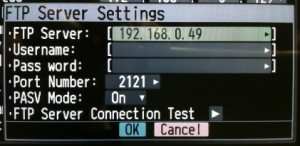 Finally, press the Start/Stop button to begin recording.
As the backup interval is reached, data will begin to populate the mobile server.

Although there isn't a mobile Graphtec application, or a means to backup data in a more usable format (like .csv), we though you might find it useful to backup and transport GL820 data on your iOS or Android device. We have inquired about the aforementioned flexibility, so stay tuned!