Installation Quits with "Invalid property value" error

View the pdf
On This Page
Symptoms
Cause
Resolution
Applies To
Symptoms
During installation "Invalid property value" error pops up and installation program is terminated (Windows 98 error could instead read "Unexpected Error." Actual error message may vary).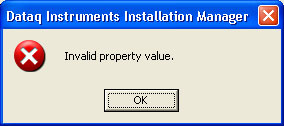 Cause
MSCOMM32.ocx file is outdated. File should be dated 6/24/98 or later.
Resolution
Find and replace MSCOMM32.ocx file. MSCOMM32.ocx is found in the Windows directory in the system32 folder (C:\Windows\system32). A more up-to-date version can be downloaded off the web at www.dataq.com/support/downloads/mscomm32dotocx.zip or on The WinDaq Resource CD-ROM (dated October 2004 or later) in the folder Dataq\support\downloads\mscomm32dotocx.zip.
Applies To
The information in this article applies to: DI-148, DI-158, DI-710, and DI-715B Installation all Windows OS.