Perhaps you have an application that requires your USB-connected data acquisition system to be positioned further from the PC than the 2 to 5 meter maximum USB cable length specification. The USB Active extension cable allows you to position your USB-connected data logger up to 15 meters (almost 50 feet) from the PC.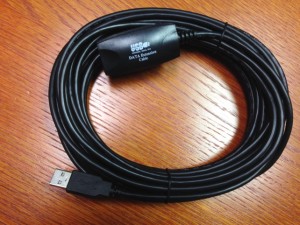 As signals travels through a USB cable, they gradually lose strength, or attenuate. The further the signal travels, the weaker it gets. The end result is data loss. The USB Active extension cable prevents data loss by buffering data entering and exiting the cable. With data transfer rates up to 480 Mbps and no external power required the Active USB extension cable supports both high speed and low speed devices.

Using a DATAQ Instruments model DI-2108-P, connected via a 10-meter (almost 33 feet) USB Active extension cable, we were able to record data at sample rates up to 160 kHz, gap free.