What's The Problem?
In the process of consolidating the firmware of various devices we inadvertently shipped some model DI-1100 USB data acquisition instruments with a defect that causes the instrument to sample at half the expected rate. For example, an instrument programmed to sample at 100 Hz will actually sample at 50 Hz.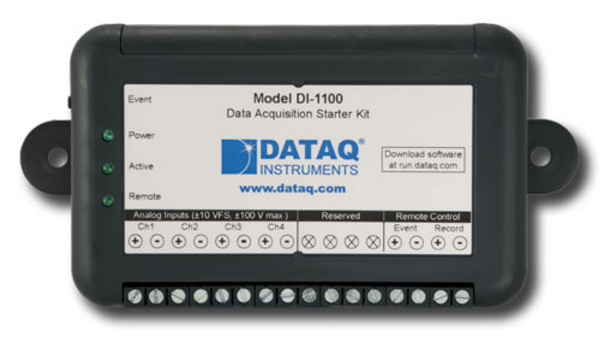 Is Your DI-1100 Affected?
The problem described above affects any DI-1100 with a manufacture date between September 1, 2017 and October 30, 2017. The manufacture date of your DI-1100 appears on the sticker located on the bottom side of the instrument (see Figure 1.)
 How Do You Get The Update?
A firmware update installation can be downloaded from here. This is a small file (<14 MB) and contains everything you need to update your DI-1100. Simply download the file and double click it to begin the installation process. We recommend that you accept all the default installation settings. If Windows displays a marquee stating that it "protected your PC" (see Figure 2), simply click "More info", and then click the "Run anyway" button.
How Do You Apply the Firmware Update?
Assuming that you installed the software with default settings you should see a new shortcut on your desktop (see Figure 3.) Simply double click the shortcut and follow instructions from there. The update process only takes a few seconds, and you can uninstall the application after it finishes.
How Can You Get Help?
If you have difficulty, or have any questions at all regarding this update, please submit a support ticket at this link:
https://help.dataq.com/portal/dataq/newticket/