You asked for…
…a quick way to view all WinDaq-compatible instruments connected to your PC.
…an easy way to run multiple instruments as independent WinDaq applications.
…a simplified approach to acquire ChannelStretch™ -compatible instruments to one WinDaq application.
You asked, and we delivered.
Introducing the WinDaq Dashboard
Our new WinDaq Dashboard delivers ease-of-use and simplicity. It determines the specific instruments connected to your PC, if they are ChannelStretch™-compatible, and their grouping. The application  understands ChannelStretch™ compatibility between models and detects USB controller groupings. Compatible instruments connected to the same USB controller may be configured to acquire data to a single WinDaq application. As many as 16 devices, 128 analog channels and 112 digital ports may be acquired to a single WinDaq file in that situation. ChannelStretch™ devices not connected to the same controller are grouped separately. You know at a glance which devices are connected and how they're grouped in a simple, logically organized list that the program automatically updates as devices are connected and removed.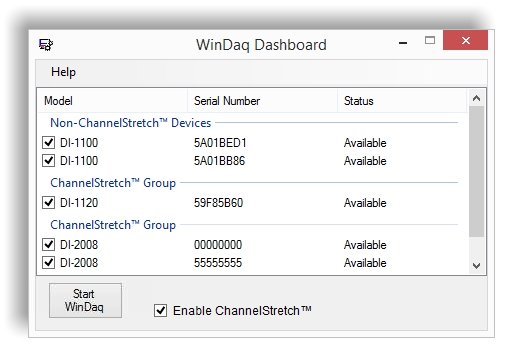 In the nearby graphic we show a typical WinDaq Dashboard display of three distinct groups:
One Non-ChannelStretch™ Devices group. Contains two DI-1100 instruments that the Dashboard properly identifies as not supporting ChannelStretch™.
Two ChannelStretch™ Groups. The first one with a single DI-1120 indicates that while that instrument supports ChannelStretch™, no other connected instruments are compatible with it in that mode. The second grouping contains two DI-2008s connected to the same USB controller. They can run with WinDaq either independently to separate WinDaq applications, or jointly to a single WinDaq application and a common WinDaq storage file.
WinDaq Dashboard Instrument Compatibility
The nearby instrument model chart shows all the devices that work with the WinDaq Dashboard. One or more checks in a row or column indicate a ChannelStretch™-compatible instrument. Multiple checks that fall in the same row or column indicate ChannelStretch™-compatible combinations between models. For example, the DI-1120 supports ChannelStretch™ and can synchronize with other DI-1120s, and models DI-4108 and -4208. Models DI-1100, -1110, and -2108 do not support ChannelStretch™.

How To Get WinDaq Dashboard, and How Much Does It Cost?
Good news! WinDaq Dashboard is available now as a free upgrade to your existing to DATAQ Software Suite. To get it visit http://run.dataq.com/ and download the latest Universal WinDaq Software Installation. You do not need to uninstall your current version. Just install the new version on top of the old.