Well, that'll ruin your day. One moment everything is going along swimmingly with WinDaq acquiring, displaying, and recording data. The next moment you're greeted with a message like this: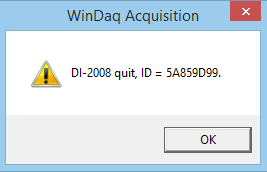 What's Going On?
While it's possible that your data acquisition device or it's connected USB cable suffered a failure, the more likely culprit is your computer's power settings. Here's what to do next:
Reboot your computer and run WinDaq again. As it runs, move the USB cable around in different orientations, and even wiggle the connections a little on the instrument and PC ends. Assuming that WinDaq continues to operate, it's safe to assume that both the instrument and the cable are okay. Time to move on.
The "Green" movement has everyone falling over themselves to supply products that consume less energy, which we all agree is a good thing. A computer that's configured at the factory to sleep after a predetermined interval is one of the easiest ways a manufacturer can support this cause. We've seen intervals as short as a few minutes and as long as several hours. The timer is reset only by keyboard action or a simple wiggle of the mouse. So, it's very possible that after you get your data acquisition system running hot, straight and normal, the clock is ticking on disaster should you decide to take a coffee break. You're away long enough for the timer to expire, and the computer to enter its sleep mode. It tucks away in memory any open applications (like WinDaq) and shuts down all power except what's required to wake it up, including your USB ports. So, externally-powered devices like your USB data acquisition system also shutdown. When your computer wakes up and restores WinDaq, it's ready to carry on where it left off. But, having been power-cycled, the hardware is in a quiescent state waiting for a command to do something. While WinDaq expects a stream of data, the hardware is silent. The confused application draws the only conclusion it can: Your device has quit!
Reconfigure Your Power Settings
The key to resolve this problem is in Windows' Power Options, which you can access via the Control Panel.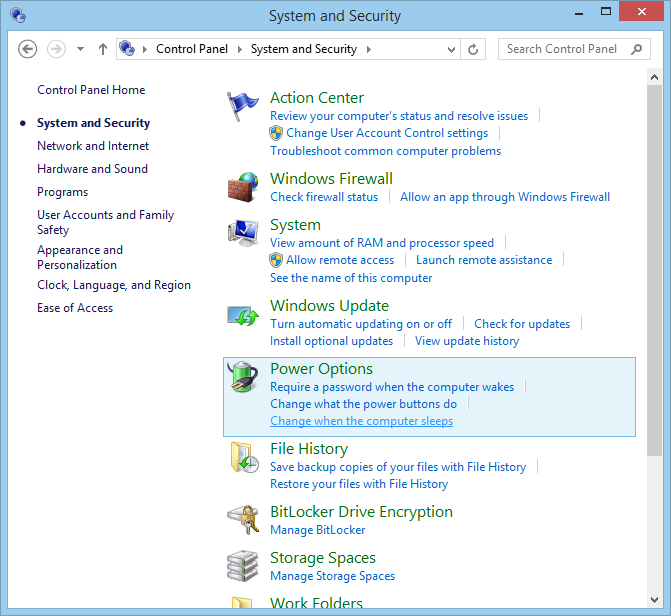 If you click Change when the computer sleeps you can adjust how long before sleep kicks in, anywhere from several minutes or hours to never. Frankly, if I'm contemplating any data acquisition activity at all on a PC, I leave my settings as shown in the following graphic to ensure that the computer never sleeps. One forgetful moment risks losing data that can never be retrieved. Note that the monitor winking out has no effect on the data acquisition process, so I allow the computer to control that with the knowledge that I've done my bit for a greener world without risking my precious data.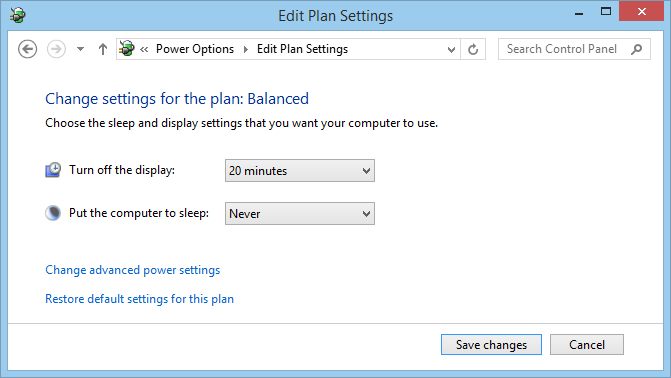 Don't Forget the USB Root Hub
Even though you've adjusted power settings to stay out of trouble, you should also adjust the USB Root hub. Many have power management options that Allow the computer to turn off this device to save power. Accessible from Windows' Device Manager, right-click USB Root Hub under the Universal Serial Bus Controllers tree, and select Properties. Make sure that option is unchecked. You may have to take this action for more than one root hub if the problem persists, since there isn't a convenient method to determine which one hosts your data acquisition system.