Supported Instruments
This post applies to the following data acquisition starter kit products
DI-1100; DI-1110; DI-1120; DI-2108; DI-2108-P; DI-4108; DI-4208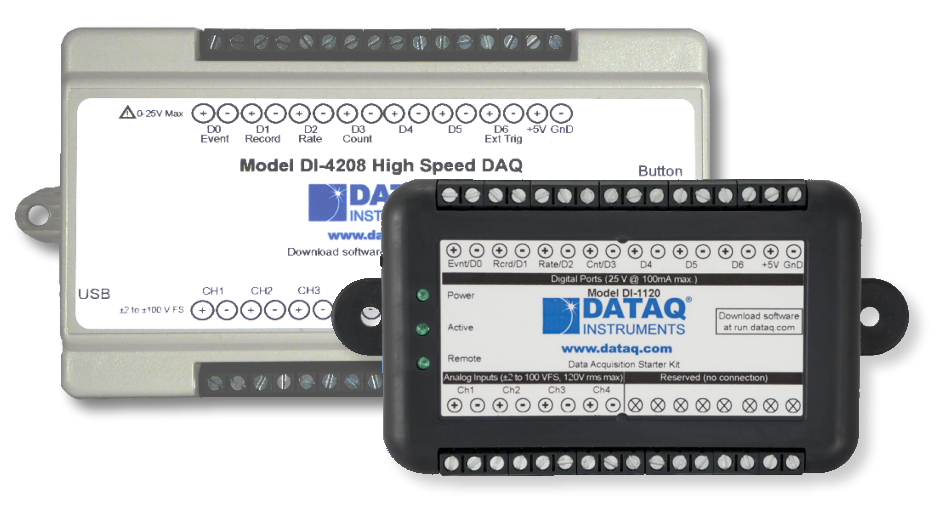 What's 'Firmware'?
Firmware is the software that's embedded into the instrument as opposed to software that's run on the PC connected to it. From time to time we might make adjustments to firmware to fix bugs, or to provide enhanced functionality. So, it's a good idea to stay current to ensure that your device operates at peak performance. And how can you do that?
Introducing Our Fail-safe Firmware Update Software
If you own one of the referenced starter kits, you're in luck. Updating any model is a fast and easy process. We've developed an application that you install on your PC to detect a connected instrument, and then automatically and seamlessly apply the correct and current firmware based upon the model of the device and its currently installed firmware revision. It's even intelligent enough to know when no update is necessary. The procedure is as easy as 1-2-3-4:
Download our firmware update software free-of-charge, and install it. Click here to download.
Connect your instrument and run the application.
Place the instrument in its firmware update mode by following instructions provided by the application.
Seconds later, the application transparently updates your device (if necessary.)
That's all there is to it. Here are some images of the firmware update utility in action:
Before a device is connected: 
Connecting model DI-1110 instrument that does not require an update:

A connected DI-1100 instrument that requires a firmware update:

After pressing START the application provides instructions for placing the DI-1100 in its firmware update mode:

After the DI-1100 is configured to receive a firmware update, the FINISH button is pressed and the application performs the update process and displays an EXIT button:

Press EXIT to close the update application, and the DI-1100 is ready for use with the new firmware.
Be sure to download the firmware update software from time to time to verify that your instrument is using the latest version. Released new versions are announced in blog with email notifications as they become available. So, if you haven't already done so, please sign up to receive our periodic emails. Information you provide stays with us. We never share it with anyone else.