An oft-overlooked feature of Graphtec data loggers is the ability to boot into USB Drive Mode. As the name implies, USB Drive Mode allows you to access, save, copy and delete files from your data logger, just as you would with a USB flash drive.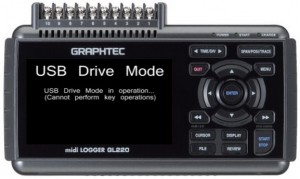 USB Drive Mode makes it simple to transfer data files from the Graphtec logger to your PC hard drive, and to view them using the included, PC based APS software. USB Drive Mode is also the easiest way to move data acquired in CSV format to your PC. Rather than transferring CSV files from the Graphtec logger to a USB thumb drive, and on to the PC; simply drag data files from Windows Explorer to your desktop!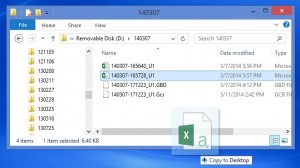 As with any other USB drive, files of any type can be saved to your Graphtec logger. Save a PDF of the user's manual, screenshots, or even a PowerPoint presentation; keeping all pertinent information in one place.
How to Boot Your Graphtec Data Logger in USB Drive Mode
To boot in USB Drive Mode:
1.)    Connect the Graphtec data logger to your PC via USB
2.)    While holding down the Start/Stop button, turn the power ON.
3.)    As the Graphtec logger boots, continue holding down the Start/Stop button until the 'USB Drive Mode' screen appears, and release.
The Graphtec logger will be recognized by your PC as external drive, visible in Windows Explorer.
To exit USB Drive Mode, turn the power off and back on again without the Start/Stop button held down.
Additional Reading:
Back up GL820 and GL900 Data Using Windows Built-in FTP Server