Model DI-75B -
OBSOLETE
8-Channel, DI-5B Module Expansion Unit
This product is obsolete and not available for sale.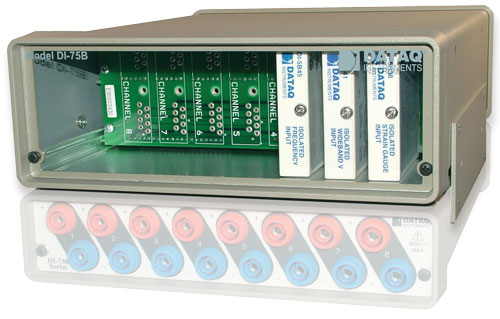 8-Channel, 5B module expansion device for DI-715B, DI-720, DI-722, and DI-730 instruments
Expands the measurement capability of DI-715B, DI-720, DI-722, and DI-730 Instruments to include virtually any isolated, industrial-type signal
Mix and match DI-5B modules to precisely suit any application
Powered from any 9 - 36V DC source
Extremely small size (9 × 7.3 × 2.7 Inches)
Can be stacked and secured with stacking brackets (included).

DI-5B Amplifiers
DI-5B amplifiers offer the convenience to mix and match modules based upon measurement function and range to meet any application requirement, from the most simple to the most complex.

32 ruggedized analog inputs
50 kHz max sample rate
±2.5 to ±20 V programmable ranges
Includes WinDaq software
Not recommended for new applications. Use DI-722-32-EN or DI-722-32-USB.
$1795
Qty:


32 ruggedized, differential analog inputs
Protected to 120 Vrms
50 kHz max sample rate
±2.5 to ±20 V programmable ranges
Includes WinDaq software
Wide power supply range (9-36 V dc)
$1995
Qty: