WinDaq/XL
WinDaq-to-Excel Real Time Link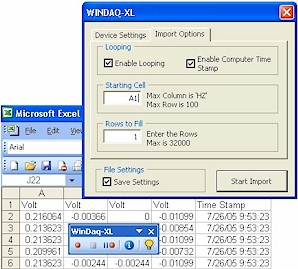 Click Here to download the software (unlock code for full version may take at least one business day to process)
Real- time data logging directly to Microsoft Excel
Compatible with MS Office 2003 or higher -

Excel MUST be installed as 32-bit version

Computer Time Stamp field
Trigger Options
"Run WinDaq Minimized" function
True Multitasking Operation
No programming
Single-Shot or Looping Real-Time Modes
Trigger Mode Support for High-Speed Snapshots
Instant Export from the Playback Software.
How do I Control WinDaq/XL from VBA?
It is possible to Start and Stop WinDaq/XL and control some of the import options from Visual Basic for Applications (VBA) in Microsoft Excel.
Step 1: Add WinDaqXLVBA Add-In as a Reference to your VBA project.
Go to Tools>>References and put a check mark next to WinDaqXLVBA.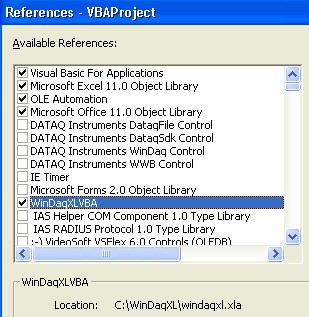 If WinDaqXLVBA does not appear as an available reference you may have to browse for the windaqxl.vba file. Click Browse, then go to C:\WinDaqXL folder, select windaqxl.vba. You will need to Browse for all file types to see the .xla file.
Please Note: WinDaq/XL Version 1.60 or greater is needed. Click here to download the latest version.
Step 2: Use WinDaqXLVBA functions from Excel VBA in your custom program. If you need access to a WinDaq/XL feature that is not listed below, submit a ticket online.
VBA Syntax
Description
WinDaqXLVBA.StartRecording
Start Recording using the settings from the last import.
NOTE: If used from a custom form, the form must be hidden before the import will start.
WinDaqXLVBA.StopRecording
Stop Recording
WinDaqXLVBA.ShowSetUpForm
Display the set-up form to define WinDaq/XL settings.
WinDaqXLVBA.SelectStartCell(StartCell As String)
Select the Starting Cell.
WinDaqXLVBA.SelectRowsToFill(RowsToFill As String)
Select the number of Rows to Fill.
WinDaqXLVBA.TimeStampEnabled(TimeStamp As Boolean)
Enable or disable the Time Stamp feature. True = enabled, False = disabled.
WinDaqXLVBA.TriggerImportEnabled(TriggeredImport As Boolean)
Enable or disable the Triggered Import feature. True = enabled, False = disabled.
NOTE: This feature must be enabled to use the other trigger options.
WinDaqXLVBA.TriggerAutoReArmEnabled(AutoReArm As Boolean)
Enable or disable the Triggered Auto-ReArm feature. True = enabled, False = disabled.
WinDaqXLVBA.TriggerChannels(Chn1 As String, Chn2 As String, Chn3 As String, Chn4 As String)
Set up to 4 channels for applying trigger values. Channel designations for triggers 2-4 are optional.
WinDaqXLVBA.TriggerOperator
Select the operator for each channel with a trigger value. Possible operators are =, >, <, <=, >=
WinDaqXLVBA.TriggerValues
Select the trigger value for each channel that is set-up.
WinDaqXLVBA.TriggerAndOr
Set up to 3 AND/OR operators to add multiple trigger values.
Step 3: Write your custom VBA code. Below is example code of how to use some of the WinDaqXLVBA functions.
Sub ControlWinDaqXL()
WinDaqXLVBA.SelectStartCell ("A5")
WinDaqXLVBA.SelectRowsToFill ("10")
WinDaqXLVBA.TimeStampEnabled (True)
WinDaqXLVBA.TriggerImportEnabled (True)
WinDaqXLVBA.TriggerChannels 1, 2
WinDaqXLVBA.TriggerOperator "<", ">"
WinDaqXLVBA.TriggerValues "0.3", "0.002"
WinDaqXLVBA.StartRecording
End Sub