Data Logger Operation of the DI-770 Oscilloscope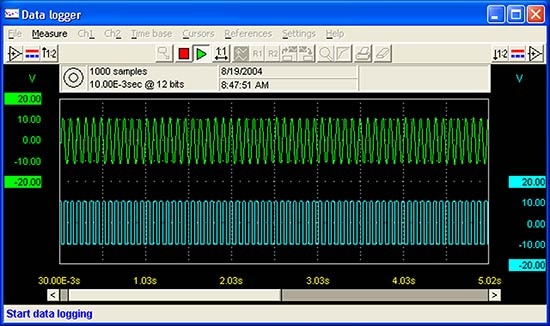 The data logger instrument is ideal for trend plotting signals that change slowly with respect to time. It is a real time instrument, meaning that each measured sample is displayed immediately as it's acquired. The data logger can sample using time intervals that vary between 0.01 sec and 500 seconds, and a total of 131,060 samples may be acquired.
As it's acquired, each sample is immediately displayed. When the number of samples is larger than the display width, two different methods can be used to display the next sample. The scan mode clears and fills the screen again from left to right. The scroll mode shifts through the display from right to left, always maintaining one entire screen width of historical information.
Key features
Up to 128K samples may be displayed at once without loss of information.
Fast and easy time zoom using our unique scroll bar.
Software selectable vertical offset and gain per channel.
Extended cursor measurements.
Supports the ability to store and recall reference signal.
Supports comment tags to mark specific on-screen events.
Supports color hardcopy.