Model DI-770 - OBSOLETE
PC-based Oscilloscope provides 5 virtual instruments in one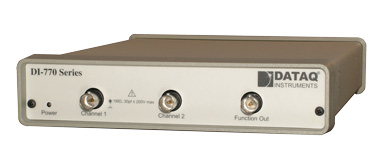 200mV to 80V full scale measurement range
5 virtual instruments in one: Voltmeter, Oscilloscope, Spectrum Analyzer, Data Logger, and Function Generator
Convenient USB interface
Two Analog input channels
Sample throughput rates up to 100MHz
Up to 16-bit measurement resolution.
Product Highlights
DATAQ Instruments' DI-770 Series Oscilloscope products provide hardware and software to support high speed data acquisition in a manner that is both price- and performance-competitive with stand-alone digital storage oscilloscopes. Two hardware versions are offered, one sampling at a maximum rate of 25 MHz and another at 100 MHz. Both hardware products are supported by WinDaq/Scope software. DI-770 hardware with supplied WinDaq/Scope software really offer five virtual instruments in one: An oscilloscope, voltmeter, spectrum analyzer, data logger, and a function/arbitrary waveform generator. These features, combined into one instrument, offer unprecedented instrumentation power, speed, and flexibility. The DI-770 oscilloscope offers two analog input channels with 8-, 12-, 14-, or 16-bit resolution depending upon sample rate. Each channel provides a 200mV to 80V full scale input range, a 128K sample record buffer, and supports a sampling rate per channel of up to 100 MHz, depending upon the model.
The DI-770 oscilloscope is provided with two 1:1 and 10:1 switchable oscilloscope probes. The product is provided in the same form factor as other DATAQ Instruments troubleshooting instruments, like the model DI-730. Package size measures L 9" × W 7.29" × H 1.52".
Flexible Performance
Used by itself or in combination with other DATAQ Instruments products, the DI-770 oscilloscope replaces conventional digital storage oscilloscopes (DSOs) that lack the DI-770's small size and direct computer compatibility. Add to this the instrument's ability to operate incrementally as a voltmeter, data logger, spectrum analyzer, and a function/arbitrary waveform generator and the instrument is solidly positioned as an alternative to multiple, bulky conventional instruments. In field maintenance and troubleshooting applications size matters, and the DI-770 oscilloscope is the smallest multi-instrument solution available.
5 Virtual Instruments in One
DI-770 Hardware coupled with the provided WinDaq/Scope Software essentially offers 5 virtual instruments: an Oscilloscope, Voltmeter, Data Logger, Spectrum Analyzer, and Function/Arbitrary Waveform Generator.
Oscilloscope Function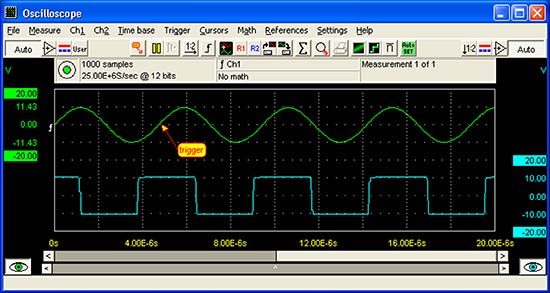 Definable record lengths ranging from 10 to 131,060 samples.
Definable pre-trigger positions ranging from 0 to 100% allows you to capture events leading up to a trigger.
Timesaving Auto Setup feature automatically senses signal voltage level and frequency, and then sets optimal acquisition parameters.
Fast and easy time zoom using our unique scroll bar.
Time base accuracy of ±0.01%.
Adjustable sampling frequency to adapt to any signal frequency.
Selectable signal averaging allows any degree of waveform smoothing with average sizes of 1, 4, 16, 32, 64, 128, or 256 samples.
Waveform envelope mode highlights min/max changes over time.
Software selectable vertical offset and gain per channel.
Point-and-click trigger level, slope and hysteresis adjustments.
Selectable linear or quadratic interpolation smoothes waveform displays.
Adjustable cursors for precise time and amplitude measurements.
Disk storage feature allows you to store and recall reference signals to aid waveform comparison and interpretation.
Channel math features allow real time channel addition and subtraction.
Supports comment tags to mark specific on-screen events.
Supports color hardcopy.
Provided with a complete Windows help facility.
Easy to Connect and Use
The DI-770 oscilloscope features a USB 2.0 interface that is backward compatible with USB 1.1. Power is derived directly through the USB cable so no external power supply is required.
Compact Size
Measuring only L 9" × W 7.29" × H 1.52"—the same size as our DI-720 and DI-730 Series instruments—the DI-770 oscilloscope is the smallest multi-instrument solution for field maintenance and troubleshooting applications.
Stackable
The DI-770 oscilloscope can be directly mounted on any DI-720 or DI-730 Series instrument to create a system combination capable of addressing the entire industrial spectrum of voltages and frequencies.
High Resolution
8-, 12-, 14-, or 16-bit measurement resolution is possible depending upon sample rate.