Spectrum Analyzer Operation of the DI-770 Oscilloscope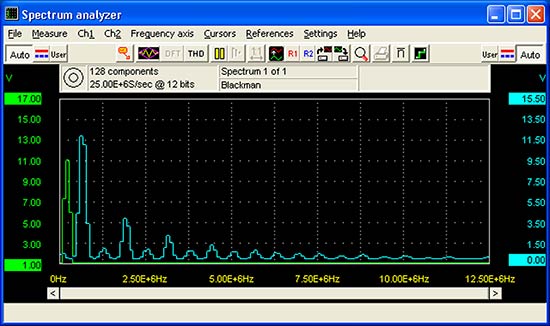 The common way to examine electrical signals is in the time domain using an oscilloscope. The time domain is used to determine amplitude, time and phase information, which is necessary to describe the behavior of an electrical system. A spectrum analyzer allows incremental evaluation by allowing waveform information to be displayed in the frequency domain. This approach displays in a histogram fashion all the frequencies and their respective magnitudes that comprise a complex time domain waveform.
Key features
True real time operation.
Supports color hardcopy.
Determines a spectrum from time domain segments up to 16K samples long.
Simultaneous use with the oscilloscope allows you to see the signal both in the time domain and the frequency domain.
Supports graphical interpolation to improve spectrum interpretation.
Allows intuitive adjustments of horizontal and vertical offsets and gains using advanced graphical controls.
Allows linear and logarithmic vertical axes scaling.
Supports five different window functions to reduce discontinuity errors in the Fast Fourier Transform.
Supports a high precision Discrete Fourier Transform to eliminate discontinuity errors completely for periodic waveforms.
Selectable signal averaging allows any degree of spectrum smoothing with average sizes of 1, 4, 16, 32, 64, 128, or 256 samples.
Supports Total Harmonic Distortion calculation up to 100 harmonics.
Supports the ability to store and recall reference spectrums.