Voltmeter Operation of the DI-770 Oscilloscope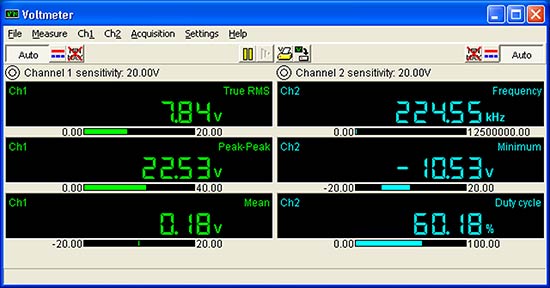 The DI-770's intelligent voltmeter function allows it to replace traditional panel meters at a fraction of the price.
Key features
Displays up to six fully configurable channels.
Quick view bar graph per channel allows a fast signal size interpretation.
Eleven selectable mathematical operations on the measured data may be enabled per channel: True RMS, Peak-to-peak, Mean Value, Maximum Value, Minimum value, dbm Frequency, Power Value, Crest Factor, Momentary value, Duty Cycle
Sixteen configurable value displays for each channel: Ch1, Ch2, Ch1 + Ch2, Ch1 - Ch2, Ch2 - Ch1, Ch1 × Ch2, Ch1 ÷ Ch2, Ch2 ÷ Ch1, log (Ch1 ÷ Ch2), log (Ch2 ÷ Ch1), Minimum Value, Maximum Value, > then Hi, < then Lo, < > Hi Lo, > < Comp
Supports disk or printer logging with an adjustable interval between measurements. Files recorded to disk can be read back into the oscilloscope or data logger virtual instruments.
The voltmeter virtual instrument may be used simultaneously with the oscilloscope and/or spectrum analyzer virtual instruments.