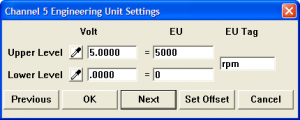 WinDaq Playback and Recording software executables that embrace the new Engineering Units definition approach are available at our website. The download is a ZIP file containing new .EXEs that replace the current versions you run, complete details on how to install them, and instructions for how to use the new Engineering Units dialog box. The new executables are compatible with the following DATAQ Instruments data acquisition and data logger hardware: DI-194(RS), DI-154RS, DI-148U, DI-148U-SP, DI-158U, DI-158UP, DI-145, DI-149, and DI-155, DI-710 series, DI-718B series, DI-718Bx series.
While those who volunteered to test this software have been notified via a separate email and directed to this blog page, we encourage anyone else with compatible hardware to give it a test drive as well.
As you use the new Engineering Units approach, please post your thoughts and impressions as comments to this blog post. I or other members of the project team will respond in kind.

If we don't hear from you we'll assume that you like it, so don't be shy and miss this opportunity to guide our development. Thank you for helping us make WinDaq software an even better and more intuitive product.
Download link: [no longer available]