We're pleased to announce the availability of .Net DLLs to support independent programming of our model DI-2108-P USB data acquisition (DAQ) instrument.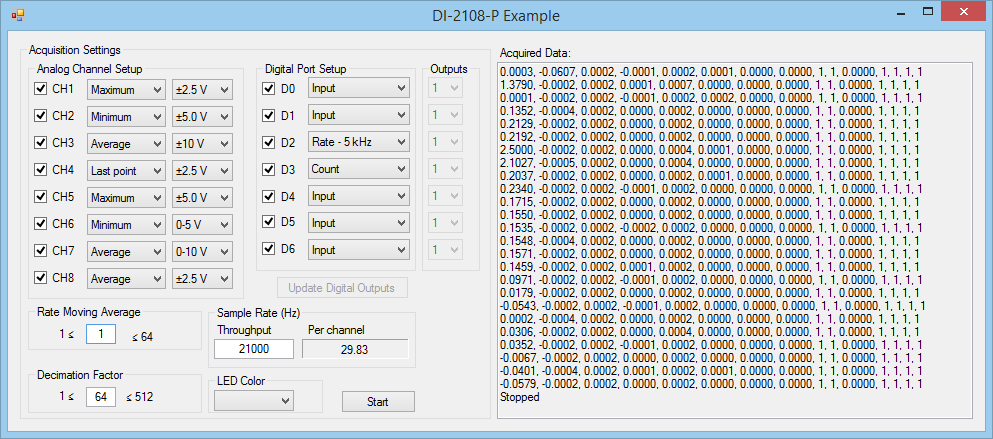 The DI-2108-P supports 160 kHz, 16-bit measurement resolution, 8 analog input channels, and 7 digital I/O ports with counter and rate inputs. The DLLs are supplied with a fully functional VB.net program example that exercises all aspects of DI-2108-P functionality:
Analog input with the following configuration per channel:

Programmable gain
Acquisition mode (min/max/average/last point)

Digital input
Digital output
Counter input (for totalizing applications)
Rate input (for frequency measurement applications)
Moving average filter factor
Decimation factor
Sampling rate
Status LED color
The VB example program is well-commented and uses multi-threading to ensure fast performance and minimal GUI latency. In this sense, it's an excellent springboard for application-specific designs. A future VB.net example will demonstrate how to use the DI-2108-P's ChannelStretch™ feature that allows synchronous channel expansion by simply connecting multiple DI-2108-Ps to the same PC.
Get started programming the DI-2108-P now. Download the latest SDK installation for free from here. It includes all example programs, and the DLLs necessary to make them work. After installation you'll find the DI-2108-P example program in path "%root%/DATAQ Instruments SDK Beta/Portable .Net Misc – v1."
For those who want a fast peek, here's a direct download for just the example program without DLLs: