New USB DAQ Offers 16-bit Resolution and Expandability
We are excited to preview Model DI-2108-P for advanced measurements at a low price point you've come to expect from DATAQ Instruments. Model DI-2108-P is an 8-channel, pure 16-bit product with programmable gain, fast sampling rates, counter and frequency measurements, and expandable up to 128 analog channels and 112 digital I/O ports using our ChannelStretch™ technology. Best of all, the DI-2108-P supports WinDaq software for productive, out-of-the-box measurements.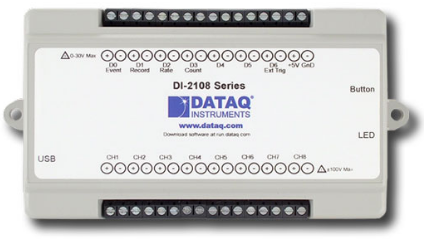 16-bit USB DAQ Performance, and More
The DI-2108-P USB DAQ features native 16-bit resolution to satisfy even the most demanding applications. In tandem with programmable gain the instrument also offers both unipolar and bipolar measurement modes so you can maximize resolution when you need it. DI-2108-P measurement resolution ranges from 100 to 400 µV, and its fast conversion rate samples one channel at 160 kHz or all eight at 20 kHz per channel. The DI-2108-P also provides seven discrete I/O ports. Each can be programmed as an input or switch, and two can be programmed to measure frequency and count.
Model DI-2108-P USB DAQ is the first external, USB-connected product to offer channel expansion that's as easy as connecting another device. We call it ChannelStretch™ technology. Connect up to sixteen devices to a standard USB hub for a total of 128 analog channels and 112 digital ports and sample rate throughput ≥ 480 kHz. A 7-pot hub can accept seven DI-2108-Ps, and multiple USB hubs can be cascaded to accept even more. The best part is that WinDaq acquires data from all units synchronously and to a single file. Connect up to sixteen DI-2108-Ps and let WinDaq synchronously acquire as many as 128 analog channels and 112 digital ports to a single WinDaq file as if from a single device, taking full advantage of WinDaq's real time display a disk streaming facilities. Then use WinDaq's Playback software to review, analyze, and export data to other applications.
Published Instrument Protocol
For those who like software their own way, the DI-2108-P's protocol is published  and fully supported. The protocol even supports ChannelStretch™ technology, and intelligent report modes to extract the average, maximum, or minimum value from over-sampled data.
Price and Availability
Model DI-2108-P is priced at $349. WinDaq/lite software, which acquires up to four channels at any sampling rate is provided with the instrument at no additional charge. WinDaq/Unlock can be purchased for an additional $99 to acquire five or more channels, and is also required per instrument to use ChannelStretch™  with WinDaq software.
We are currently accepting orders with this announcement for delivery in a Decmeber, 2016 time frame. Advanced orders will not bill until the instrument ships. Model DI-2108-P is CE-approved for sale in EU countries
 More Information
Get many more details, including a data sheet and multimedia presentations, from the DI-2108-P product page on our website at this link: https://www.dataq.com/products/di-2108-p:
Feel free to direct any questions for this or any other product to sales@dataq.com.