Model DI-808 Data Logger Features an Access-anywhere Design
DATAQ Instruments is proud to announce the latest addition to its product line, model DI-808 Web-based data logger. This exciting product offers a new concept in data logging with its built-in, intelligent web server. In brief, the DI-808 Web data logger can be used by any device with a web br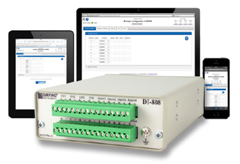 owser running any operating system, and in any form factor. Laptop, tablet, desktop, smart phone, Linux, Windows, iOS, Android. They're all the same to the DI-808. The instrument embraces the trend toward IoT (Internet of Things) operation where the device manages itself, and puts only the information you want exactly where and when you need it. Manage, receive and retrieve data from the DI-808 from across the room, or just as easily from the other side of the planet.
More DI-808 Web Data Logger Features
No software to install. Works with the Web browser already installed on your favorite device.
Stores data locally to internal 4 GB flash memory (32 GB optional), a USB drive, a local or remote server,
one or more email addresses, or any combination
Allows remote real time display and configuration
Eight 16-bit, differential, isolated analog input channels that are programmable
as millivolt, voltage or thermocouple measurements per channel
Four pulse input channels programmable as count, frequency, or discrete functions per channel
Four real-time discrete alarm output channels with email/text notification
Automatic time and date stamping
Flexible triggering selections start and stop data recording and set alarms based upon

Analog and pulse input levels (above/below level, inside/outside window)
Alarm status
Date/time/day-of-week

20 programmable sampling intervals ranging from 25 mS to 1 hour, with an external selection
Built-in Ethernet interface
Finally, both DI-808 models feature price points that are as attractive as the instruments themselves:
DI-808 (4 GB internal flash memory), $995 US list
DI-808-32 (32 GB internal flash memory), $1095 US list
Availability in the US market is June 6, 2016. Availability for the rest of the world will be shortly thereafter. We'll keep you informed.
Please take some time to learn more about this breakthrough instrument by visiting its product page, and especially by downloading its PDF data sheet with embedded multimedia presentations.
DI-808 Product Page
DI-808 PDF data sheet