New EL-EnviroPad-TC Thermocouple Data Logger
DATAQ Instruments is proud to release model EL-EnviroPad-TC, a thermocouple data logger that features battery operation, a huge data storage memory, and a built-in touch-sensitive color display. Designed for on-the-go measurements, the EL-EnviroPad-TC supports both snap-shot and long term data logger operating modes.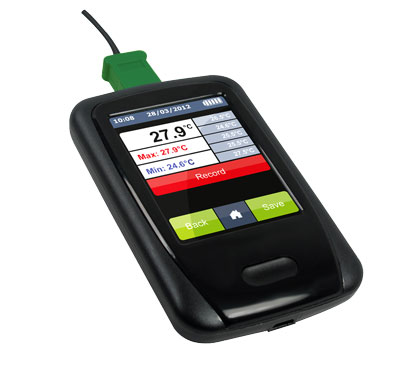 Compatible With Any Operating System
Plug the EL-EnviroPad-TC into the USB slot of any PC using the provided cable. The instrument appears as USB jump drive, and recorded temperature data is easily accessed as a CSV-formatted file for analysis.
Supports Multiple Thermocouple Types
Use the EL-EnviroPad-TC with type J, K, N or T thermocouple types, and a hefty K-type probe is included.
Built-in Data Review
Use the EL-EnviroPad-TC's to review acquired data wither in tabular or graphical form.
Native CSV File Format
The EL-EnviroPad-TC stores data in a comma separated value format that's compatible with most analysis applications, the most popular being Microsoft Excel.
Learn More
We have all the details waiting for your review at this link.