LCF450 Series
Low Profile Pancake Type Load Cell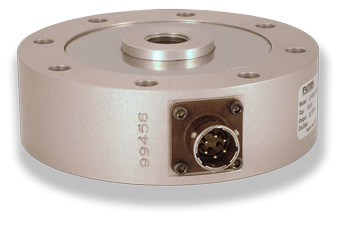 Download the datasheet
500 to 10,000 lbf capacity (2225 to 44500 Newtons)
Available in both anodized aluminum (lower capacities) and stainless steel construction
Nonlinearity: ±0.1%
Deflection: 0.002" to 0.005" nominal
US and metric threads available
6-pin Bendix recptacle PT02A-10-6P
Amplified and fatigue rated versions available
Weight: 1.3 lbs (aluminum) or 3.5 lbs (steel)
For use with the DI-5B38-05 or the DI-8B38-05. Use the DI-5B38-02 or the DI-8B38-02 for limited dynamic range applications.
The LCF450 is designed for both tension and compression applications. The flexure has eight bolt-down holes along its outer diameter for easy mounting. The LCF450 series can be modified or customized to meet your requirements (contact DATAQ Customer Support for more information). This product is manufactured in the US and uses metal foil strain gauge technology.
Material
Capacity
Aluminum
Stainless
Thread
Buy
Part Number
Lbf
Newtons
2024-T4
17-4PH
5/8-18
M16x2
Connector
Contact Us
FSH00128
500
2225
6 pin Bendix
Receptacle,
PT02A-10-6P
FSH00132
FSH00143
FSH00129
1000
4450
FSH00133
FSH00145
FSH00130
2000
8900
FSH00134
FSH00135
FSH00139
FSH00136
3000
13350
FSH00140
FSH00137
5000
22250
FSH00141
FSH00138
10000
44500
FSH00142