LSB200 Series
Miniature S-beam Load Cell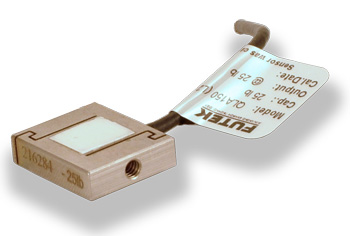 Download the datasheet
Compact sized S-beam (0.75 inches tall)
0.7 ounces to 100 lbf capacity (20 grams to 445 Newtons)
Available in both aluminum (lower capacities) and stainless steel construction
Nonlinearity: ±0.05%
Deflection: 0.005" nominal
External matched output option available
Built-in overload protection
Female threads in US or metric
Connection options include a five-foot or a ten-foot 28 AWG 6 conductor shielded polyurethane cable
Weight: 0.3 oz (aluminum) or 0.9 oz (steel)
For use with the DI-5B38-05 or the DI-8B38-05. Use the DI-5B38-02 or the DI-8B38-02 for limited dynamic range applications.
The LSB200 series is widely used in medical bag weighing applications as well as automated feed back control and inline processing applications. The LSB200 series can be modified or customized to meet your requirements (contact DATAQ Customer Support for more information). This product is manufactured in the US and uses metal foil strain gauge technology.
Material
Capacity
Aluminum
Stainless
Thread
Cable Length (ft)
Buy
Part Number
Lbf
Newtons
Ounces
Grams
2024-T4
17-4PH
4-40
M3x0.5
5
10
Contact Us
FSH02319
0.35
10
FSH02666
0.7
20
FSH02667
FSH02535
1.8
50
FSH02663
FSH02536
3.5
100
FSH02664
FSH02602
8.8
250
FSH02665
FSH00091
1
4.5
FSH00101
FSH01559
FSH00092
2
8.9
FSH00102
FSH01748
FSH00093
5
22.3
FSH00103
FSH01887
FSH02235
FSH00095
10
44.5
FSH00104
FSH01888
FSH00096
25
111.3
FSH00105
FSH02224
FSH00097
50
222.5
FSH00106
FSH02494
FSH00098
100
445.0
FSH00107