PFP350 Series
Female Port Pressure Sensor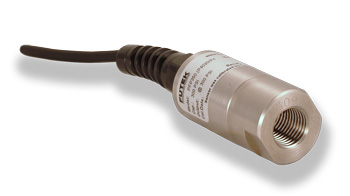 Download the datasheet
Max Pressure: 300 to 10000 PSI (20.7 to 689.5 Bar)
Nonlinearity: ±0.5% of R.O.
Rated output: 2 mV/V nom.
Stainless steel construction
1/2-20, 7/16-20, or 1/4-18 NPT threads available
Electrical connection options include a LEMO connection or a three-foot cable
Weight: 5.5 oz
For use with the DI-5B38-05 or the DI-8B38-05. Use the DI-5B38-02 or the DI-8B38-02 for limited dynamic range applications.
The PFP350 Pressure Plug Sensor with cable is a general purpose female port Pressure Sensor solution for a variety of applications. The PFP350 series can be modified or customized to meet your requirements (contact DATAQ Customer Support for more information). This product is manufactured in the US and uses metal foil strain gauge technology.
Max Pressure
(Relative)
Electrical
Connection
Female Port
Thread
Buy
Part Number
PSI
Bar
LEMO
Cable (3ft)
1/4-18 NPT
Material
Contact Us
FSH00820
300
20.7
17-4 precipitation
hardening
stainless steel
FSH00821
FSH00824
1000
68.9
FSH00825
FSH00828
5000
344.7
FSH00829
FSH00832
10000
689.5
FSH00833