Model DI-725 -
OBSOLETE
32-Channel General Purpose Expansion Unit
This product is obsolete and not available for sale.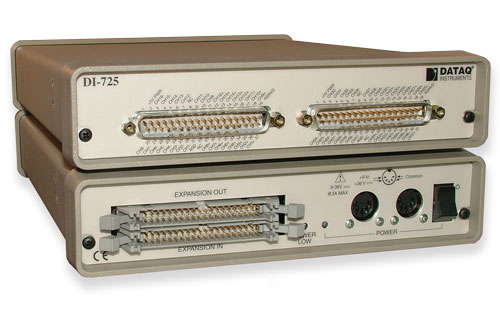 32-Channel expansion device for DI-720, DI-722, and DI-730 instruments
Programmable gain per channel
Powered by host instrument
Base models feature a full scale measurement range of ±10V at unity gain. Extended measurement range models offer a ±20V full scale measurement range. Custom measurement ranges also available
Extremely small size (9 × 7.3 × 1.5 in.)
Can be stacked and secured with optional stacking brackets.

32 ruggedized analog inputs
50 kHz max sample rate
±2.5 to ±20 V programmable ranges
Includes WinDaq software
Not recommended for new applications. Use DI-722-32-EN or DI-722-32-USB.
$1795
Qty:


32 ruggedized, differential analog inputs
Protected to 120 Vrms
50 kHz max sample rate
±2.5 to ±20 V programmable ranges
Includes WinDaq software
Wide power supply range (9-36 V dc)
$1995
Qty: