Our new GBD to WDH converter gives you the ability to convert GBD files, created using GL220, or  GL820 series instruments, to WDH format. Resulting WDH files can be opened in the WinDaq Waveform Browser for observation and analysis. For convenience, and to maintain 16-bit resolution, a high-res version of the WinDaq Waveform Browser is installed along with the converter.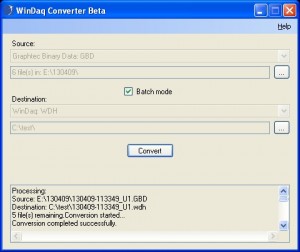 The straight-forward user interface allows you to select a single GBD file, or multiple files using 'Batch mode'. As the name implies, batch mode allows you to convert a large number of files, with a single click.
Along with the data, scaling values, user annotation and event marks are transferred to the resulting WDH file.
You can download the WinDaq Converter beta here.
Comments and suggestions are welcome!