DATAQ Instruments is please to introduce the EL-CC-1. Designed for cold chain monitoring, the EL-CC-1 logs a time and date stamped temperature reading every 10 minutes, and provides a visual indication when temperatures rise above or fall below pre-configured limits.

Three different versions of the EL-CC-1 are available; one for chilled foods (35.6° to 46.4°F), one for frozen foods (-4°F to 3.2°F), and one for ripening foods (53.6°F to 57.2°F). Each logger is sealed in plastic to keep out dust and moisture (IP67).
The EL-CC-1 is reusable for the life of the battery (rated for one year of operation). Since the seal must be broken to retrieve data, re-sealable replacement bags can be purchased separately.
The included EasyLog CC software allows you to initialize the logger to begin recording, save recorded data to your PC hard drive, and view previously recorded data.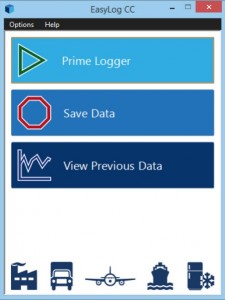 Data can be exported as a PDF file, a JPEG image, or in CSV format for viewing in Microsoft Excel.