The AC-FLDRJ is a flood sensor designed for use with the Temperature Alert TM-WIFI-350 LAN-based temperature and humidity data logger. Measuring just 2.5" x 3.25" x 1", simply lay the sensor on a flat surface to detect the presence of conductive, non-flammable liquids. Built-in feet on the bottom of the AC-FLDRJ keep the sensor contacts just above the monitored surface to prevent false alarms. A center mounting hole allows the sensor to be bolted in place, for permanent installations.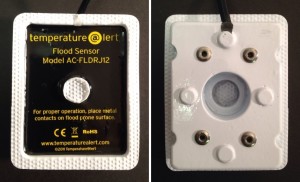 When the surface is dry, the sensor sends a 'No Flood' signal to your TM-WIFI-350. When a liquid is detected, a 'Flood' signal is sent. The TM-WIFI-350's built in server allows you to configure the instrument so that an email alert can be sent when a 'Flood' signal is received.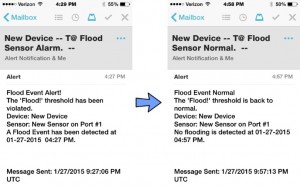 A second email can be sent when the liquid recedes (the TM-WIFI350 detects a 'No Flood' signal once again).
The AC-FLDRJ is available with cable lengths of 15, 30 and 50 feet, and will work with legacy products, including TM-WIFI220s sold AFTER January 20th, 2012 (with the latest firmware) and the TM-WIFI-330.
Additional Reading:
An Overview of the Temperature Alert LAN-based Temperature and Humidity Data Logger
Temperature and Humidity Data Loggers