Buy $1000 of DATAQ Instruments Products and get DADiSP for
only $595!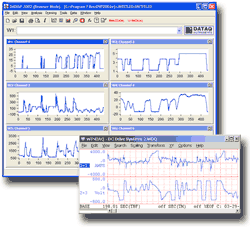 DSP Development and DATAQ Instruments have combined their resources to bring you an unprecedented bundle deal. For a limited time, when you buy $1000 worth of DATAQ Instruments Products you can purchase DADiSP for a special discount price of only $595. That's $1400 off of list price. Also included is the Digital Filters Module (a $500 value) for a total discount of $1900 (a 76% discount).
Includes the DATAQ File I/O module and the Digital Filters Module. DADiSP MUST be purchased at the same time as your DATAQ Instruments products purchase (totaling $1000 or more).
Learn more about DADiSP and download the free trial version.
DATAQ File I/O Module
DADiSP / Dataq File is a simple dialog based module designed to easily read and write WinDaq data files. Both .wdc files (files recorded to SD memory using a DATAQ Instruments data logger) and .wdq files (files recorded using a PC and WinDaq Acquisition software) are supported. Files can be any size and contain any number of channels.

Download the DATAQ File I/O Module Datasheet
Digital Filters Module
DADiSP/Filters is a menu-driven module for FIR and IIR digital filter design and analysis. From any DADiSP Worksheet, you can quickly design, view and analyze both FIR (Finite Impulse Response) and IIR (Infinite Impulse Response) filters. Once you have designed a filter, you may filter the raw data, then view and analyze the filtered signal. Through the easy-to-use dialog boxes or simple one line functions, you can tune the filter iteratively, re-filtering the data until you have separated the signal from the noise cleanly.

Download the Filters Module Datasheet
Note: If you do not purchase $1000 worth of DATAQ Instruments products in the same order you will not be eligible for the discount (your order will be voided).