The stand-alone EL-WIFI-Alert alarm indicator is an add-on for EL-WIFI series temperature and humidity data loggers. The EL-WIFI-Alert produces an audible and visual alert when an alarm level on any of your EL-WIFI temperature and humidity data loggers (installed on the same wireless network) is breached.
Note that individual EL-WIFI-Alert units cannot be "assigned" to specific EL-WIFI loggers. If an alarm level on ANY of your EL-WIFI loggers is breached, all EL-WIFI-Alert units on that network are activated.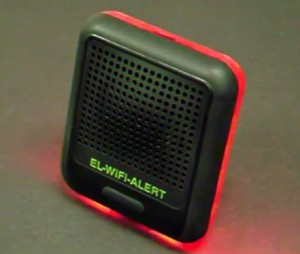 Multiple EL-WIFI-Alert units can be placed in remote locations, out of sight of the EL-WIFI loggers themselves and your PC, alerting users to alarms that might otherwise get overlooked. With 10 volume settings, 9 alarm sounds and bright, flashing LEDs, the EL-WIFI-Alert is a great compliment to the alerts already visible on your EL-WIFI logger and in the WIFI Sensor Software.
Additional Reading:
Configuring the All-new EL-WIFI-TH Using EasyLog WiFi Software
Cloud-based Device Management for EL-WIFI Data Loggers