EL-WiFi Data Logger Series Overview
Low-cost, wireless, battery-operated data loggers
Product Features
Wireless communication to any PC using WiFi.
802.11b-compliant for universal compatibility
Programmable high and low alarm thresholds.
Seamlessly uploads memory to host PC at programmable intervals.
Automatic time and date stamping of logged data.
Program the logger to begin recording immediately, or at a specific date and time.
Built-in display shows current, min/max readings, alarm states.
Built-in USB interface for battery charging and initial configuration.
Hardened plastic bracket for easy deployment.
Free configuration, review, and Excel-export software
Cloud-based Device Management allows you to view recorded data and configure your devices over the internet
EL-Wifi Data Logger series products are a line of low cost, compact, battery-operated data loggers with with wireless connectivity and an LED display. Each product in the line offers a specific measurement function and range.
Products in the Series
Description
Typical EL-WiFi Deployment Options
Wireless PC or Laptop connected to a LAN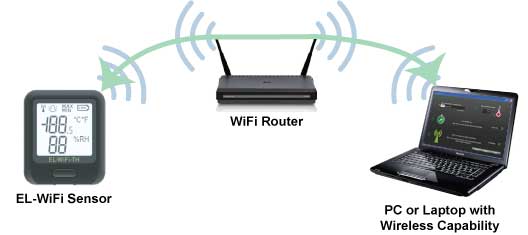 PC or Laptop connected to a LAN via Ethernet Cable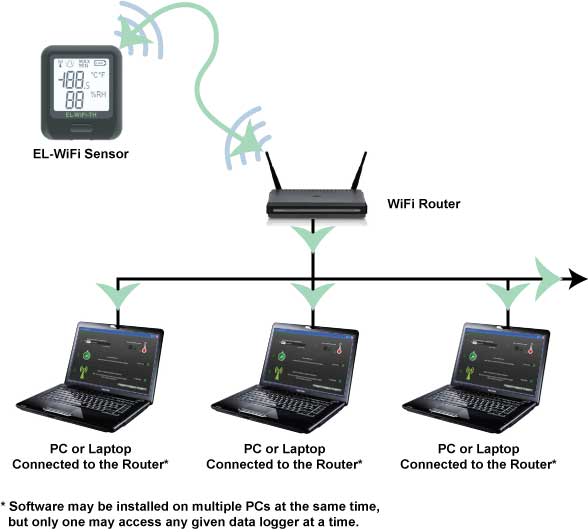 Working with EL-WiFi Data Loggers (click on image for closer view)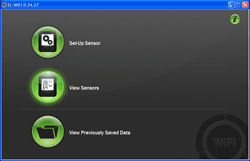 View Connected Data Loggers
Click on the View Sensors Icon in the configuration software to view connected data loggers.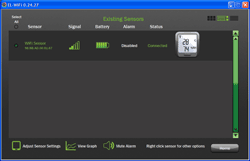 Overview of connected data loggers
This screen lists all the data loggers on the PC's network, and provides information about each:
Data logger name and MAC address
WiFi signal strength as detected by the sensor
Data logger battery status
Data logger alarm status (see below)
The data logger's WiFi connection status (Connected, Waiting for sensor, Disconnected)
A virtual real time picture of the data logger's display that updates as new data is transmitted.
Near the bottom of this display you can wirelessly adjust data logger settings, view a graph of sensor-acquired data, and mute the PC's audible alarm if any sensor is in the alarm state.