Software
Program
Amplifiers
Variable Speed Drive Measurements using the DI-730 Data Acquisition System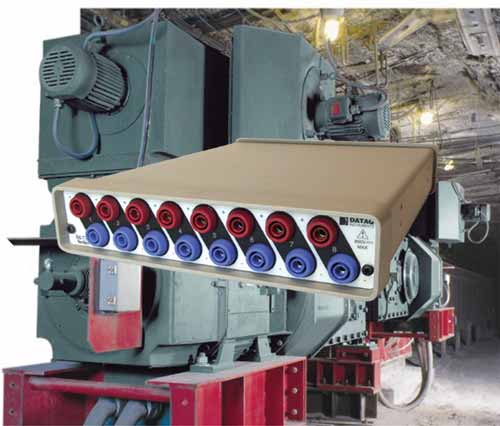 Motors using variable speed drives are found at virtually all levels of production, from mining raw materials and processing them into finished goods, to transporting those to market. Examples include open pit mining machines, steel and steel rolling mills, aluminum rolling mills, paper mills, heavy duty cranes, heavy duty construction equipment, electric locomotion by rail and sea, and high speed transit cars. In these applications and many more, the costs associated with system down time caused by a motor or drive failure can be severe. For this reason motor and drive maintenance and troubleshooting is a major activity in many industries, and our DI-730 is the first PC-based product designed specifically for these and other demanding measurements that require isolation and wide dynamic range.
The following diagram shows a variety of typical measurements made by our customers every day on variable speed drives using our model DI-730 data acquisition hardware. Each represents a direct-connected measurement without applying external isolators, dividers, or amplifiers.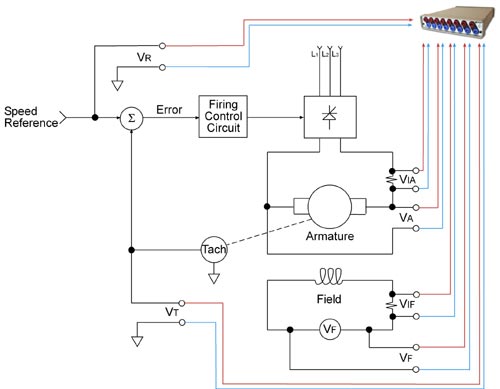 Symbol Descriptions (direct connections to the DI-730)
Symbol
Description
Method
Typical Voltage Range
Typical Calibrated Range
VIA
Armature Current
Shunt
±100 mV
100-2000 A
VA
Armature Voltage
Direct
0-500 V
0-500 V
VIF
Field Current
Shunt
10-50 mV
0-20 A
VF
Field Voltage
Direct
0-300 V
0-300 V
VR
Speed Reference
Direct
0-10 V
0-4000 RPM
VT
Tachometer
Direct*
0-200 V*
0-4000 RPM
*May also be acquired as a pulse train with frequency proportional to RPM.
Typical Applications for Variable Speed Drive Measurements
Winders/Coilers

Marine Applications

Crane/Hoist

Mining/Drilling

Extruding

Additional reading:
Synchronized and Distributed Data Acquisition Using DI-720/DI-730 Instruments in Hot Strip Steel Mills
Pressure and Flow Data Acquisition Measurements in Hydraulic Systems