Model DI-148U -
OBSOLETE
Eight-channel data acquisition starter kit
This product is obsolete and not available for sale.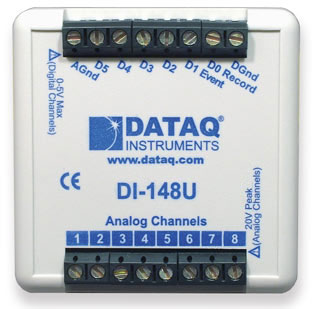 Obsolete - replaced by the DI-149 - View a side-by-side product comparison
Low-cost, compact, data acquisition starter kit.
Eight analog input channels
Record Data With 10 Bits of Measurement Accuracy at Rates Up to 14,400 Samples/Second. WinDaq High Speed Acquisition software required for recording rates over 240Hz.
Convenient USB Interface.
Six digital bits for general purpose I/O.
Includes WinDaq recording and playback software, communications cable, screwdriver, and documentation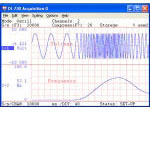 Unlock Code for High Speed Data Acquisition
Unlocks WinDaq to allow recording speeds up to 14.4 kHz throughput. Unlock Code ONLY. No CD will be shipped. Please Note: If you are ordering this software for a device you already own, you MUST provide the serial number of your device under "Order Notes" during checkout to receive the unlock code. Please allow one (1) business day for processing.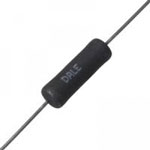 R250 4-20 mA Current Loop Shunt Resistor
Precision 250 Ω resistor, 0.1%. Learn More about 4-20mA current loop data acquisition.